The Library of Congress is an agency of the Legislative Branch, home of the US Copyright Office, and the largest library in the world. We're also proud to add "LAC Federal client" to the list, as we've provided library services and support for dozens of projects for over 15 years. Needless to say, all the work we do for the library is detail-oriented, while balancing precise workflows with a high level of professionalism.

One of our nine contracts at LOC deals with exerting quality control over all of the books and materials from across the collection and their associated bibliographic records. This project for the Collections Management Division involves inspecting catalog records and relocating books and other materials throughout the DC area. It's called the Inspection of Production Lots Program or IPLP and it's currently managed by LAC Federal employee Sean Gleeson.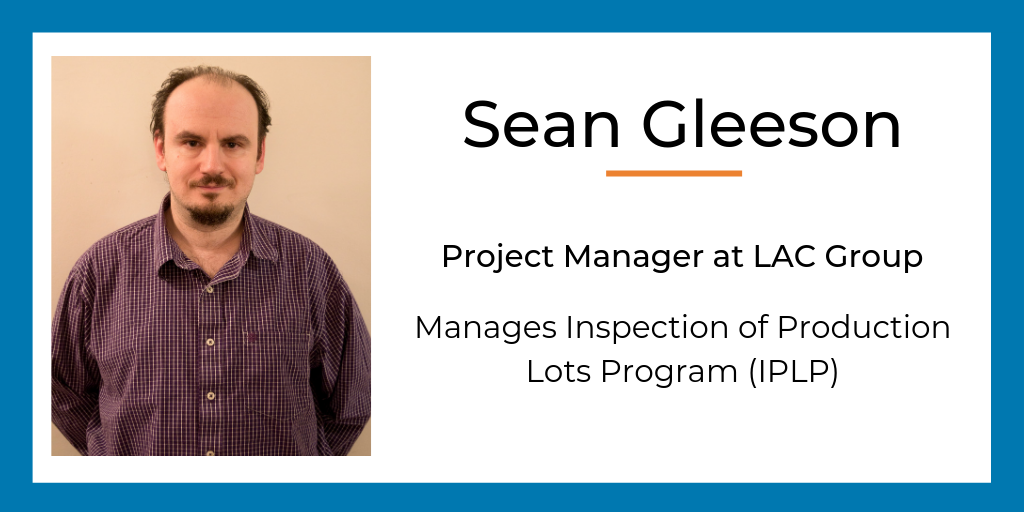 Sean has been with LAC Federal for four years, all of this spent on-site working at the Library of Congress. This gives him a unique understanding, for an outside, of the Library's systems, expectations and culture. Before starting on the IPLP team, Sean earned an MLIS degree from Catholic University of America, which happens to be just up the Metropolitan Branch Trail from the Library of Congress in Washington DC.

Books and other materials in these collections are shelved in buildings on Capitol Hill, in Maryland, and in other off-site storage locations. The stacks are closed to the public. While most of the items are books, the collection also includes other media like microfilm and photographs, which are in many cases preserved as fragile materials in a cold storage facility.
Materials are delivered on book trucks to Sean and other team members, one of whom travels with materials to an offsite location as needed. Each book is opened and inspected before beginning the journey to various staging areas and before ending at its final location and shelving space. It's the IPLP team's job to find and flag errors and make sure that each item's record was properly updated. When Sean and his team find items with errors or discrepancies, they refer them back to the project from which they came for further action, which involves working with Federal employees and contractors with other organizations.

Among the projects the IPLP team inspects is a newer one called the Retrospective Holdings Integrity Program, or RHIP, with items from the 1800's to 2000's, though mostly from the mid-to-late twentieth century. Newer items are generally handled by the New Acquisitions Project, or NAP, another project the IPLP team inspects. A wide swath of diverse materials comes across the desks of IPLP team members and they must be ready for anything!

IPLP, RHIP and NAP are among the many inventory management projects that involve assigning storage, preparing items and ensuring data control of items selected for transfer to off-site locations. Proper labeling and bar-coding are crucial for inventory control, to ensure future locating and retrieving when needed. As the library's vast collections grow even more vast, some books and other materials are being stored offsite, making proper handling and management across different locations an important consideration.

Sean's view of the work:
"I find it interesting. I get to be in the stacks, which are closed to the general public, and I get to see a wide range of books. We're not in the grand Library of Congress spaces that tourists and visitors see, like the Great Hall, but it's fascinating to be behind the scenes."
The wide range of books he refers to includes historic works, government publications, foreign language texts and even romance novels. After working with many Russian texts, Sean says he is able to transliterate the Cyrillic alphabet, which should come in handy on future projects and possible travels.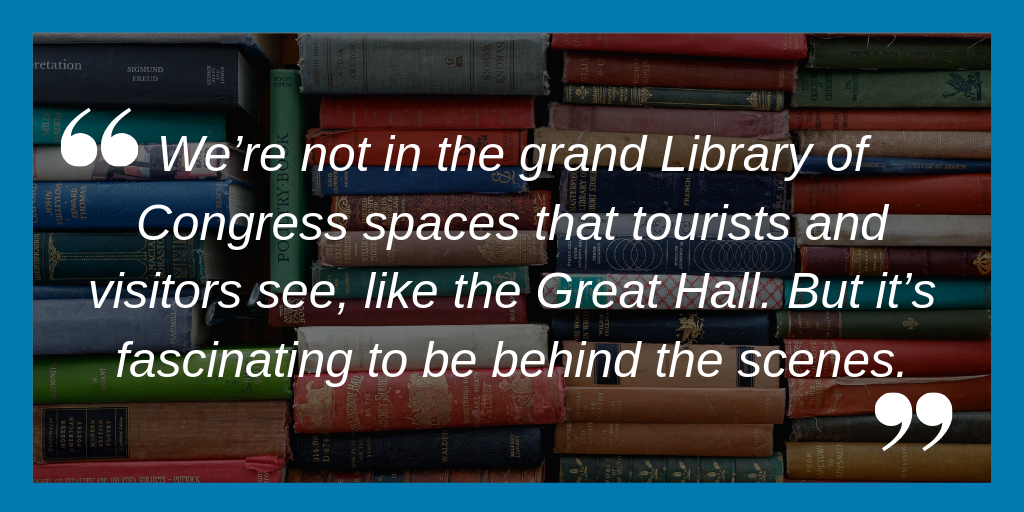 Sean manages a team of around 10 people working full-time. One of his responsibilities is to manage team changes as people leave, are promoted or move to new assignments. Some of the team members hold advanced library degrees while others have learned the workflows through years of library experience. With the large volume of items involved, the project has been in progress for about 10 years now. As for when it will end, Sean simply says, "It could go on for a while."

Sean and his team are responsible for some detail-oriented work at the Library of Congress, just one of several federal libraries we're proud to support. I'm happy to recognize the work that they and other LAC Federal employees do for all our federal government libraries.
More about the Library of Congress Collections Management Division
The Collections Management Division was formed in 1978, a time when up to 30% of requests resulted in a not-on-shelf (NOS) report. The division shows the Library's commitment to the General Collections, ensuring these materials can be retrieved when requested.
The General Collections encompass 23 million book and bound-serial volumes that take up more than 500 miles of shelving across various library facilities.

Every working day, as many as 1,500 requests are received for items from the General Collections.

The division meets the demands of access and maintenance through a staff of over 250 library employees and contractors.

While maintenance work is done behind-the-scenes, public service work takes place in the Main Reading Room and in the Center Room of the Adams Building.
More on LAC Federal's library and information services and federal contract vehicles.